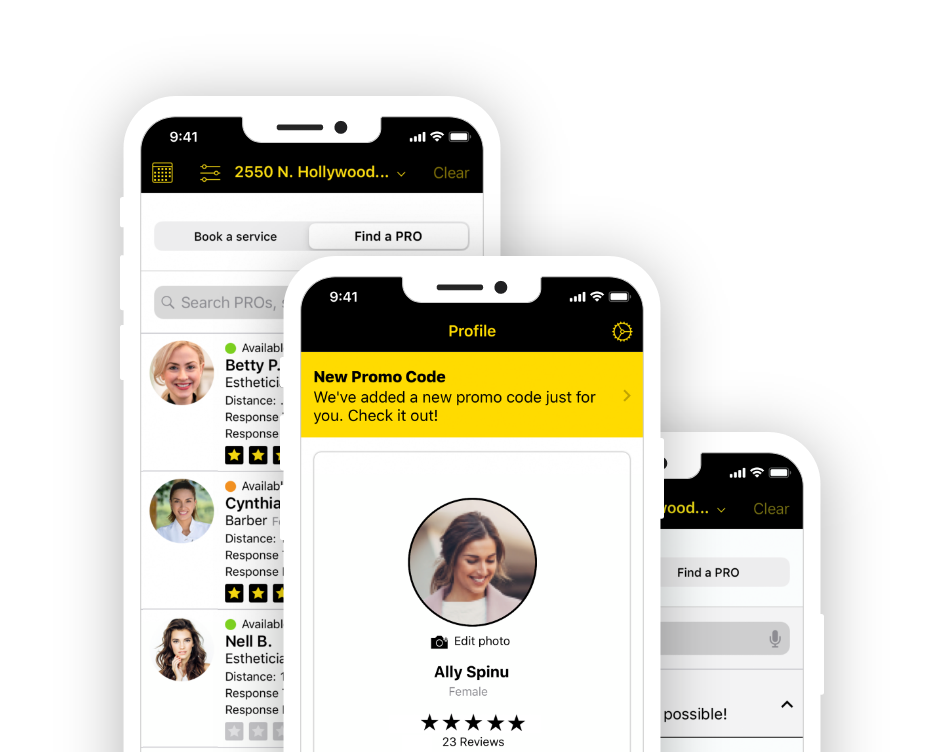 Why Us
Convenience
Your time is valuable, and we understand that. When you book with MOBILESTYLES, vetted PROs travel to you for all your health and beauty needs in minutes!
Choice
Choose among hundreds of services and hundreds of traveling PROs on the MOBILESTYLES App!
VIP Experience
MOBILESTYLES only works with verified PROs to ensure each Client receives the highest quality of care for any service every time.
Security
Get peace of mind knowing MOBILESTYLES certifies each PRO and Client using phone verification and ID scan to ensure a safe platform for all users.
Postitive Reviews
Submit before and after pictures of your service for a chance to be featured on our exciting social media series Just Completed, What People Are Saying, and more!
Custom Services
Customize your five-star experience to tailor to all your needs. Select from 100+ health, beauty, and wellness services for some much-needed self-care.
How It Works
1. Download the App
Start your successful registration by downloading the MOBILESTYLES App!
2. Register
Experience our intuitive software for a seamless self-registration process.*
If you have any questions, contact one of our friendly and knowledgeable agents.
*Are you a beauty professional? Please see our PRO registration details for your successful registration.
3. Book a service
Search over 100+ salon-grade beauty services and receive multiple offers by verified PROs in your area.
4. Find a PRO
Explore over 5,000 vetted and licensed PROs nationwide, and discover the right one to provide on-demand services for you.
5. Sit Back and Relax
Your PRO will arrive, pamper you, and provide you with an amazing experience!
download
The MOBILESTYLES Resource Center
Learn about everything from the app, including how to make your portfolio stand out, get the latest news in health and beauty, and even see before and after beauty transformation!
LEARN MORE
Coming to All Major Cities Near You!
We are active and licensed in 38 states across the U.S.
Are You a Beauty or Wellness Professional?
Reach your professional and personal goals with MOBILESTYLES. Embrace the fast-paced-tech world of health and beauty with exclusive access to Clients near you!
Free membership
Weekly payments
Ability to set your own schedule
Featured on Instagram, Facebook, LinkedIn, Twitter, and more
Register Now