Become a PRO!
Reach Your Personal and Professional Goals With MOBILESTYLES.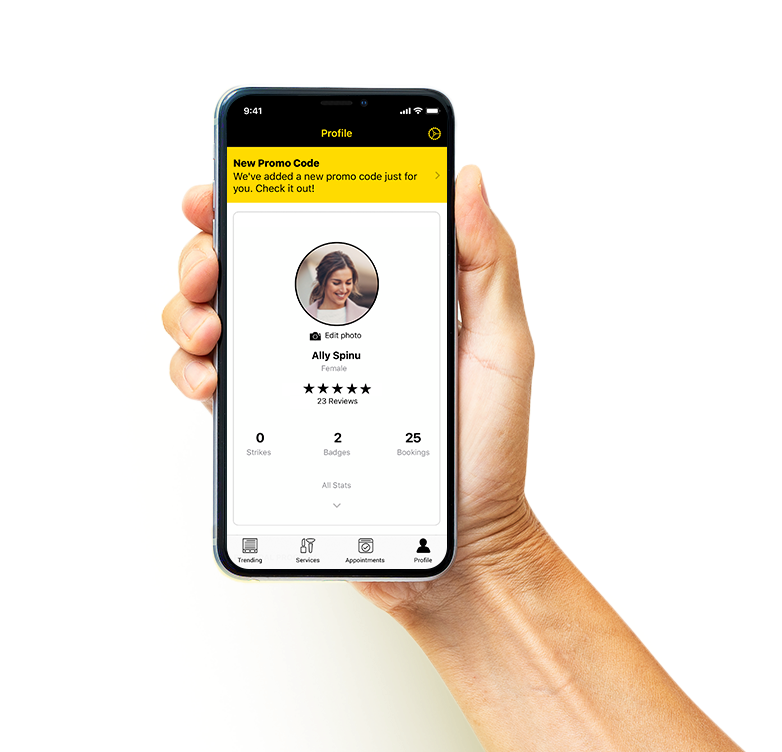 Join MOBILESTYLES
You're qualified and ready to embrace the fast-paced-tech-world of health and beauty. When you join MOBILESTYLES you receive:
Free membership
Weekly payments
Ability to set your own schedule
Let us be the platform for you to make beauty happen!
Learn more
Register Today for Free
Join the #1 Health and Beauty On-Demand App in the Nation!
Grow Your Income
Get paid weekly via direct deposit, and all tips are 100% yours to keep!
Manage Your Business
Showcase astonishing work by customizing a digital profile exclusive to MOBILESTYLES PROs. Reinvent your portfolio to display expertise skills that will have local clients rushing to book you!
Plan Your Schedule
Let clients book appointments with you on the schedule you set, all on the MOBILESTYLES app.
Spotlight Feature
Engage clients with our exclusive MOBILESTYLES promotions. Get featured on our Instagram, Facebook, LinkedIn, Twitter, YouTube, and even newsletters!
Secure Payment
Get peace of mind knowing all payments are processed through the app and are encrypted for the safety and security of all our users.
Expand Your Client Base
You can count on our expansive, trusted, and verified client base to view your impressive profile online.
How It Works
Follow These Easy Steps!
1
Download the App
Start your successful registration by downloading the MOBILESTYLES App!
2
Register
Experience our intuitive software, for a seamless self-registration process. If you have any questions, schedule an onboarding session with one of our friendly and informative agents who are always happy to walk you through it.*
3
Build an Amazing Portfolio
Complete your profile by showcasing images of your best work that demonstrates your sensational skill set!
4
Quick Over-the-Phone Training
Get expert-level training from our agents, who will guide you on how to accept orders and maximize your earnings, so you can concentrate on delivering exceptional services with confidence!
5
Congratulations!
Celebrate your successful registration by sharing your shiny new profile with family, friends, and clients, and watch the bookings begin!
Download the App
*Must pass a background check.
Meet Our Beauty School Partners
Are you interested in becoming a health & beauty service provider? Education is the first step! Here are some beauty schools we partner with.
Frequently Asked Questions
Is this a legitimate company?
MOBILESTYLES App is a trusted app on both the App Store and Google Play! MOBILESTYLES launched in spring 2018 and has now become nationwide. As the #1 health and beauty app in the nation, MOBILESTYLES continues to grow rapidly with the number of PROs and Clients! The safety and security of all user information is of utmost priority with MOBILESTYLES. Once you register, all provided information is encrypted, and we would never ask you for personal information.
Do I need a license or certificate to join MOBILESTYLES?
MOBILESTYLES abides by all state laws and regulations. If your state or county requires you to be licensed or certified, then you will be required to provide proof of your license and or certification.
Does a background check hurt my credit score or cost money?
MOBILESTYLES uses a certified third-party vendor to conduct background checks on all our PROs to ensure a secure platform. PROs' personal information is encrypted and securely transmitted. MOBILESTYLES is not able to disclose any details of the findings of your background check. We can only discuss if the background check has been successfully cleared or not. The background check does not in any way lower your credit score and is simply a precautionary measure MOBILESTYLES requires as part of the onboarding process. The first background check is part of the PRO onboarding process, which is FREE and covered by MOBILESTYLES. In any case, where a second background check is needed, the PRO will cover the fees for the secondary background check.
How do you advertise MOBILESTYLES?
As the #1 health and beauty on-demand app in the nation, MOBILESTYLES, has an immense Marketing Department in charge of promoting via all major social media platforms. You can count on MOBILESTYLES to promote your profile on social media platforms, magazines, radio stations, conventions, and more! Since launching in spring 2018, our start-up has grown rapidly. We are currently in major citiies nationwide!