Find the right PRO for your next mobile hairstyle!
Discover vetted styling PROs for your next styling, haircut, or any other service! The best part? MOBILESTYLES PROs come to you!
The main responsibilities of a hairstyling PRO are to cut, trim, and style a client's hair. Your stylist should always be able to provide hairstyle suggestions and proper haircare for any hair styling services you may need!
Variety of Styles

Our experts are trained to know the current trending hairstyles for both men and women. If you have a style in mind, be sure to let your PRO know what you're going for. If you have pictures of a particular cut that you'd like, definitely have it ready so you can show your PRO! This is always a great way to help your mobile hair styling appointment turn out perfectly!

Mobile hair styling with a MOBILESTYLES specialist can include a wide variety of styles. Be sure to check if your PRO has a specialty that caters to the style you're looking to get for your next hair styling booking appointment!

All Types Welcome!

Our PROs are trained to handle all hair types to help their clients achieve the style of their choice through a variety of services. Wavy, straight, curly - no matter what, we have a PRO for you! Our PROs can handle afro styles, layered haircuts, waves haircuts, and much more!

Services at Your Convenience

When you make an appointment with an on-demand PRO at MOBILESTYLES, we are dedicated to providing quality mobile hair styling services to you, no matter where you are! Save time and energy by letting us come to you at your convenience. An on-demand haircutting PRO can work from your home, hotel, office, wedding venue, or any other location you want! You can book ahead of time, or the day of - whatever works best for you!

No matter where, we make sure that all of our clients have access to our wide variety of high-quality services, which can all be performed at home, or any location that you'd like!

Make an appointment today!
Book today!
Are You Ready For The Perfect Style?
Cycle through our wide range of haircutting PROs in your area and book an appointment for mobile hair styling services today!
Not exactly what you're looking for?
Hairstyling PROs may also be known as hairdressers, haircutters, barbers, or cosmetologists. While the title may be different, the mobile hair styling services provided should be very similar!
Some of these services include, but are not limited to:
Blowouts
Bun Styles
Flat Ironing
Roller Styles
Updo Styles
Silk Press
Are You an On-Demand Hair Styling PRO?
At MOBILESTYLES, we can help you further progress in your career! By starting an on-demand haircutting job with MOBILESTYLES, you will have the freedom to create a schedule that best suits your lifestyle!
Become a PRO!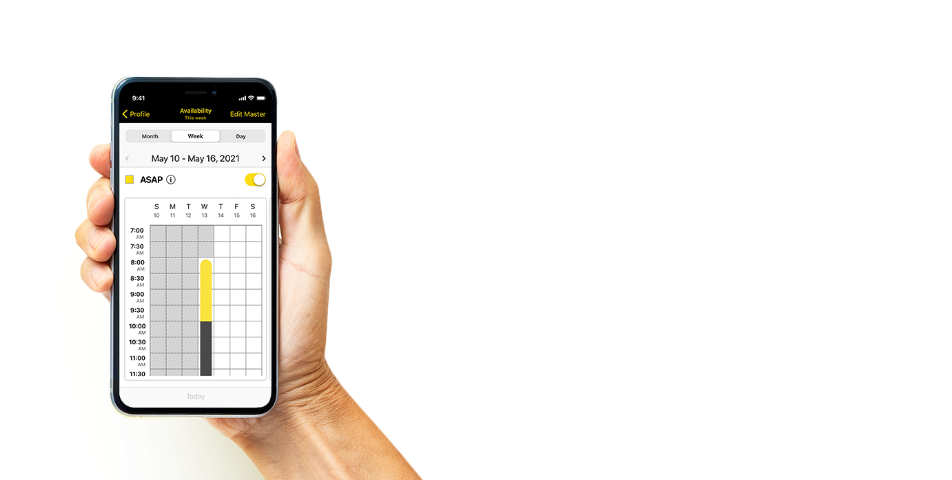 Other MOBILESTYLES Services
MOBILESTYLES in Numbers
Downloads

(iOS + Android)

89.1k

Subscribers

(In-App + Newsletter)

255k

5.5k

5.9k

380k

Audience

(In-App + Online)
Get in Touch!
For all service inquiries, career options, or health and beauty tips, don't hesitate to reach out.